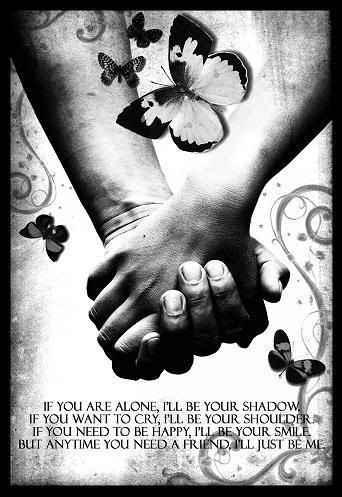 This is for all my Guardian angels..My lovely friends..
Each n everyone of whom's special..
However,these are only words..;)
n I advise you to not to take them seriously..:P



When despair surrounds you
& you see darkness everywhere,
Don't call for me,
'Coz I'll be already there..

When you are loosing the hope
& tears roll down your cheek,
I'll wipe them off your eyes
& will never let you feel weak..

When the momentum's killing you
& expectations are too high,
Together we'll crush your problems
& bid them Good-bye..

When you need a shoulder to cry on
I will come n lend you mine,
& I'll keep holding your hands
Till everything's fine..

So don't you worry baby
Just give me your hand,
I wont let tides take you away
The way they wipe names off the sand..

I don't know where the time'll take us
Dunno where the life's roads'll bend,
All I know is,for as long as I live
You'll always have in me - A FRIEND!